Today in Barbie Art land I'm pimping my favorite place to pick up used Barbies,
Value World
in Ann Arbor. The owner/manager there, Jeremy (I believe his name is) has been giving me deals on bulk Barbies for awhile now. Rather reluctantly in the beginning, I might add. :p
Last time I was there, I promised him a Barbie of his very own to display or do with as his wished for all his kindness. It really does help the cause, those deals. He gave me a great one today, but I'll never tell.
I got 23 Barbies! They're all currently in the salon at the moment. Some of them were in rough condition. They usually are, but I fix 'em pretty good. Some were really awesome, too. Some I'd never seen before and pretty special. I found one with a hard plastic face and like, blinky eyes. Very cool. I think she's getting a special dress and locked in the china cabinet. heh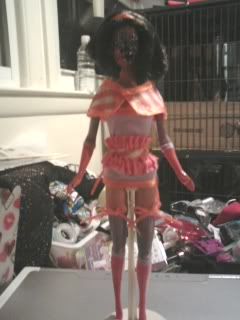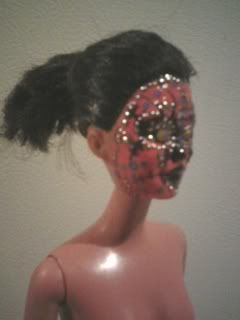 I ended up giving him this
one
and that worked out well, because he said purple was his favorite color! Yay! I thought it was a good one because it showcased my clothes making, mask making and all around awesomeness. *cough*
Anyway, he seemed to like it and that makes me happy. I made him a little business card to go along with it, should he display it. I guess we'll see!
Now, back to all those curly haired bitches with conditioner in their hair awaiting salon treatment now. *sigh*
- Joy -